The wedding season starts again, and it is that more and more couples decide to give the Yes, I want it in autumn. We know that life is very expensive and wanting to save becomes essential. Knowing that the invitation to a wedding comes with many expenses, forgetting the hairdresser is a reality. These hair dryers are very popular with their buyers, they are on sale by less than 45 euros and they promise to help us get red carpet locks that look fresh from the living room and rejuvenate our appearance. Whether it's to show off a low bun or a Japanese straightening, these options might interest you.
Based on the list of best sellers on Amazon and top rated on El Corte Inglés, we have made this selection where the variety of features could make you opt for one or the other.
Remington Proluxe Midnight Edition
Thanks to OPTIHeat technology, this dryer offers us to create hairstyles that last all day, resistant 24 hours according to laboratory tests. Thanks to its Perfect Styling Burst option, the selected temperature is optimized to direct the heat where it is needed. Professional quality, its ionic conditioning delivers 90% more ions for shinier hair with less frizz.
With a professional 3 meter cable, this dryer allows you to set it to three different temperatures and two speeds. On sale for 42 euros, it is an unbeatable option to add to our dressing table.
Remington Proluxe Midnight Edition hair dryer AC9140B.
Phillips
Knowing that tumble dryers can take up a lot of space, Philips is launching this lightweight, foldable version that's perfect for all those XS bathrooms or to take anywhere. Among the opinions we find this one which could help us decide in the choice: "it is very practical and has a lot of power for its small size. It folds very easily".
In addition, its price is also interesting: 12.90 euros. Perfect value for money these days.
Philips Cura dei capelli Bhc00/0 Drycare Essentialcare Compact Dryer, Power 1200 W, Black
Ufesa SC 8450
Among all the proposals, this dryer offers us a professional finish thanks to its ion generator. It comes with two speeds and three different temperatures and has a removable filter.
The Ufesa hair dryer is on sale for 35 euros and is one of the most popular in El Corte Inglés.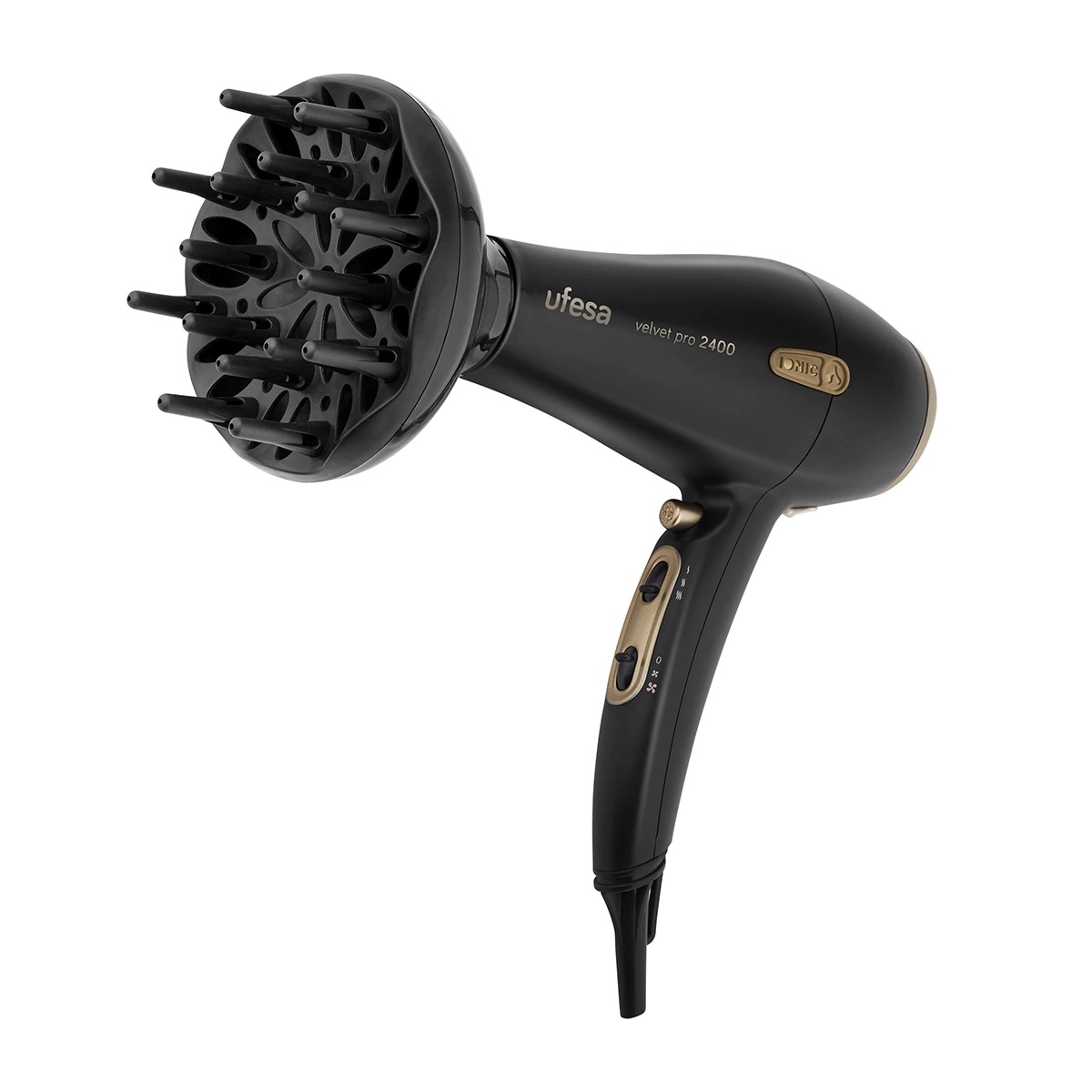 Ufesa SC 8450 hair dryer with ion generator.
Cecotec Bamba IoniCare
With a good quality-price ratio, the Bamba IoniCare hair dryer from Cecotec becomes a product "a lot of power and very manageable". Among its features we find that it comes with real ions, it has a design that comes with a large air flow, two speeds and three temperatures. In addition, its 1.8 m cable allows us to dry our hair while we move around the bathroom in search of other things.
We don't know what hairstyles we'll achieve with it, but we'll be sporting an outrageous mane. The best? Its price, 22.90 euros -against 29.90 euros of origin-.
Cecotec Bamba IoniCare 5200 Aura – Ionic hair dryer (2300 W power, DC motor, with real ions, large air flow, 2 speeds and 3 temperatures, 1.8 m cable) Black
Bull Studio 1500
If the wedding you've been invited to is outside of your city and you have little room in your suitcase, there's no problem. Taurus brings us this foldable design with 1500W of power and two speeds. On sale at a price of 14.04 euros, it becomes one of the most attractive proposals on the market due to its quality-price ratio.
Taurus Studio 1500 folding travel dryer.
Rowenta Signature Pro CV7840
The Rowenta firm presents its Signature Pro CV7840. It's a professional hair dryer, with a professional 2200W AC motor, ionic function, two speeds and three temperature settings. In addition, it is accompanied by concentrator tips and a diffuser to be able to shape the hair and give it an iconic volume.
Among the reviews, buyers point out that "with this hair dryer I notice that it dries my hair faster and leaves it silkier". While its initial price was 49.99 euros, it is now on sale at 28.99 euros.
Rowenta Signature Pro CV7840 – Professional hair dryer, 2200W professional AC motor, ionic function, 2 speeds and 3 temperature settings with concentrator and diffuser tips
Philips ThermoProtect 3000 series
The firm Philips launches this model from the Series 3000 range which creates a very powerful air flow so that you can achieve a spectacular and stylish hairstyle every day. It is accompanied by the ThermoProtect accessory that mixes hot and cold air with great power for daily care -and reduces the temperature by 15ºC while drying the hair quickly-. Its ionic system generates up to 20 million ions per drying session, which intensifies the shine of the hair. In addition, it allows you to put it in six different positions to guarantee precise control and achieve that hairstyle that makes us look younger.
Although its starting price was 24.99 euros, it is now found at 18.99 euros.
Philips tumble dryer with ThermoProtect 3000 series (model BHD350/10)
Note: some of the links in this article are affiliated and may provide an advantage to Trendencias.
Pictures | iStock, Amazon, El Corte Ingles